From first learning the workout to achieving your fitness goals and becoming a recognized part of our Fit Fam, we chronicle Orangetheory Panama City Beach from the perspective of our members as they enjoy every phase of their fitness journey with us.
How long have you been a member of Orangetheory Panama City Beach? Remember the very first days when you were just hearing words like base, push, all out, and splat points for the first time? Aren't you amazed at how much has changed between the day you joined and now? You should be—you're crushing it!
There's plenty to enjoy about every phase of your Orangetheory fitness journey. Whether you're reflecting on the early days or looking forward to what your Orangetheory life might be like a year from now, we're excited to be on this journey with you!
We all go at our own pace, but through an OT member's eyes, our fitness journey looks a little something like this:
Awe & Enthusiasm
Months 0-1
Everything is bright, new, and ORANGE! You got to use a rower for the first time. You've learned two dozen free weight and TRX moves. You feel a little lost and overwhelmed, but you're following along with the pulse of the class, and you're quickly realizing that your OT coach always has your back.
You're telling all your friends about your fun new workout and sending them your performance summary after each session to humblebrag about how many calories you've torched. You've already explained splat points to them at least five times and have gotten at least two friends to promise they'll eventually try the workout with you. You check in to OT Panama City Beach on Facebook almost every time you're here and have posted at least one selfie in your brand new Orangetheory shirt and OT Flex.
The color orange has quickly occupied a special place in your heart—so much so that you're looking for new ways to incorporate it in your wardrobe. Orange sneakers? Go for it!
You feel excited and energetic, experiencing the full effects of the afterburn for the first time.
Orange Tip: Share your excitement with us on Instagram! Follow us @otf_pcb and stay connected with your Orangetheory Panama City Beach Fit Fam.
Adjusting
Months 1-2
It's still new and exciting and you truly love it, but suddenly you realize how sore and tired you are. The workout is working, and every fun, challenging class is pushing you in ways you've never pushed yourself before. You're adjusting not only to the physical demands of the workout, but also to the effects outside of class—like going to bed earlier, sleeping more, and eating properly to fuel your body.
You might be starting to wonder if you can keep it up. Maybe you alter your workout schedule to allow proper recovery time for your body. It's definitely an adjustment period, but the energy of the class, the persistence of your peers, and the friendly push from your coaches keeps you going strong.
Empowered
Months 2-3
You've made it! You're keeping up with your workouts. You know your personal base, push, and all out paces and what dumbbell weight to use to challenge yourself on those reps. You've even gotten the hang of proper rowing form (with a few friendly reminders from your coach).
It feels amazing knowing you can do it—and that you are doing it. You're burning for a better life and a healthier you, and nothing can get in your way.
The sense of accomplishment you're gaining from Orangetheory is trickling into other aspects of your life as well. You feel more confident in everything you do, from days at work to nights out on the town. Your clothes are fitting better, your skin has taken on a healthy glow, and you're smiling more.
Upping the Ante
Months 4-6
Now that you've got down the basics, you're ready for more. You increase your workouts from 2 or 3 days a week to 4 or even 5. You're pushing your speed and weight limits in class and setting new personal records you never would have thought possible 6 months ago. You're taking on fitness challenges like the Transformation Challenge, Dri-Tri, and Hell Week—and crushing it.
OT Famous
Months 7-12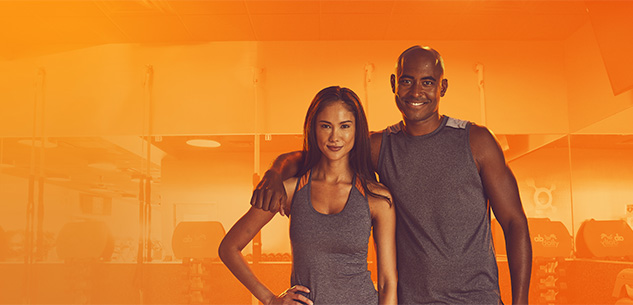 Orangetheory Panama City Beach isn't just your gym—it's your second home. It's where you get to see your Fit Fam. You've bonded with the other members, coaches, and front desk staff. You're known here. People know your name and you know theirs, but it goes beyond just the basic formalities. You're following each other on Instagram. You know each other's goals. You know where they work, what they're studying in school, when they're getting married, and what sports their kids play—and they know who you are, too.
You walk in with your head held high, and you deserve every bit of the recognition. You get what Orangetheory is all about, and you're part of the Orangetheory community. You've achieved true OT Famous status. And those Orangetheory outfits look damn good on you, too!
The Lifestyler
1-2 Years
You're learning how to use the strength you've gained from Orangetheory in other aspects of your life. You're not just active in the studio. You're getting outside more: hiking, running, swimming, and playing sports. Maybe you even ran your first 5K or Marathon. Orangetheory is an awesome part of your life, which serves to make other aspects of your life even better.
Orange Tip: If you've already achieved your target weight and reached all your goals for strength and health, don't stop! While it can take over a year to build your dream life, letting your routine go for just a couple months is all it takes to lose everything you've worked so hard for. Keep burning!
Pro Status
3+ Years
Remember when you peeked at more experienced classmates to try to match your form to theirs when taking on a new move? Now you are the role model. You're a shining example of the right way to do Orangetheory and what real results look like. People in and out of Orangetheory Panama City Beach are inspired by you.
Your fitness journey definitely isn't over, but it's also a great distance from the start line. You feel great about where you're at in Orangetheory and in life, and as you keep burning, you know your future is bright.
What Next?
Whether you're brand new to the workout or have reached "Pro Status," you know the joy of Orangetheory. Why not share it with a friend? Click here to share a free workout with someone who would enjoy it as much as you.
Want another fun Orangetheory read? Click here to check out The 7 Stages of Orangetheory Fitness as it chronicles the daily feelings and experiences of a member before, during, and after the workout.