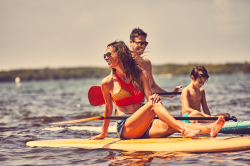 Working out at Orangetheory Fitness in Panama City Beach, FL, does more than help our members reach their goals in weight loss, endurance, strength, and power. We also empower our members to live fuller lives.
Orangetheory is more than a workout. We've embarked on a fitness journey that extends far beyond the walls of our studio here at Orangetheory Panama City Beach.
Orangetheory Fitness is a lifestyle, and it helps us live healthier, happier, fuller, better lives. The more time we spend in here, the more we're able to enjoy life out there.
How has Orangetheory helped you get more out of life? Here are some of the things members across the nation are enjoying more of thanks to the splat points they earn during each 60-minute workout.
More time with loved ones
Go ahead and spend a day at the park with family, kicking a ball with the kids and maybe even starting a game of tag. Take your fur baby on more walks—or even jogs.
We love the way Orangetheory lets us connect and get quality time with the people (and animals!) who matter the most in our lives.
More smiling down the aisle
There's nothing like feeling confident and beautiful on your wedding day. We're proud to be part of the big day for so many brides, grooms, and bridal parties around the world.
We're getting ready to go All Out for I Do! Brides and grooms have the chance to win $5,000 by entering at www.alloutforido.com and completing at least 10 Orangetheory workouts between May 1 and June 30.
More adventures
Who's up for a hike? The view from the top is great!
Orangetheory pushes us to gain endurance, strength, and power—opening up a new level of freedom in our travels and journeys.
More new places
You deserve to live your life to the fullest and experience everything the world has to offer. For some of us, this means traveling. These experiences can also include going back to school, changing careers, or taking up a new hobby.
Orangetheory gives us the energy and the drive to make choices and see them through. We have the power to make our wildest dreams come true.
More active
Before Orangetheory, did you ever think you'd be one of those people signing up for a 5K or 10K? If you were already a runner, have you seen your race time drop after training with us?
Our daily workouts, along with fitness challenges like the OTF Marathon, help us get in the game and make our way to the top.
More teamwork
Orangetheory is for everyone—all ages, fitness levels, and walks of life. And it brings us all together for fun partner and team workouts as well as community events we participate in as a group.
We're so lucky to have such an amazing Fit Fam here at Orangetheory Fitness Panama City Beach. We truly are an awesome team!
More winning
You're not just on the sidelines anymore. You're in the middle of the action, competing—and you're a worthy competitor.
We love the taste of victory as Orangetheory enables new levels of success, not only in races and in sports but in every aspect of our lives.
And did we mention more FUN?
We love it here at Orangetheory Fitness in Panama City Beach, FL! Time spent with our members, coaches, and staff doesn't just keep us burning; it keeps us smiling.
And a little humblebragging doesn't hurt. We're proud to be part of the Orange Nation—and you should be, too! You've earned it.
Share your Orangetheory story with the world. How has being a member of Orangetheory Panama City Beach helped you get more out of life? Submit your story here, at www.myallout.com, and be a source of inspiration for other people like you who want to live their best life.
Not a member yet? Get a taste of our amazing Fit Fam and the hottest workout in the nation by trying a free class.